INDUSTRY LEADING HOT TUB WARRANTIES UP TO 10 YEARS

When shopping hot tubs San Diego, be sure to consider the warranty. Other brands guarantee's last 1 or 2 years, but our quality hot tubs feature limited warranties for up to 10 years!  This means if a part fails under warranty in one of our spas, we cover the parts and labor 100%. In addition, with Jacuzzi's network of authorized dealers and technicians, if your hot tub is moved to another city or state, someone is standing by to ensure years of worry-free enjoyment.  This is the piece of mind that can only be provided by the legendary manufacturer that is Jacuzzi® Brand Hot Tubs San Diego.
VIEW WARRANTY OPTIONS
AQUA PARADISE JACUZZI HOT TUBS & SPAS:
JACUZZI HOT TUBS
SAN DIEGO
6990 El Camino Real
Carlsbad, CA 92009
Call: (760) 431-7727
11305 Rancho Bernardo Rd
San Diego, CA 92127
Call: (858) 675-7727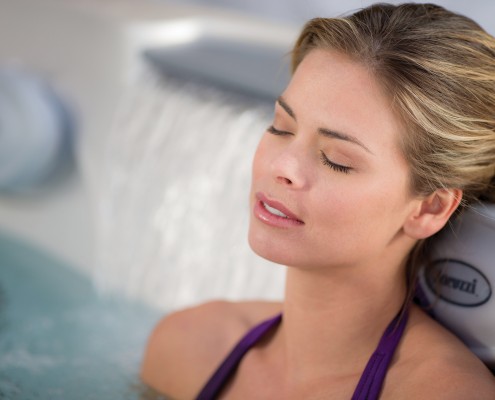 INDULGE: COME TAKE A TEST SOAK IN A GENUINE JACUZZI BRAND HOT TUB
An easy way to determine what features you do or don't find important when shopping hot tubs is to take a simple test drive of the products you are considering.  Yes this does mean bringing your bathing suits and towels.  While most people automatically assume all spas and hot tubs feel, perform, and function the same way, this couldn't be further from the truth.  The whole history of Jacuzzi was built on the backbone of Jacuzzi's incredible jetting systems.  Experiencing the progression of these jetting systems and their integration into Jacuzzi's ultra-comfortable shells is something on a completely different level from any other product on the market.  Bring your suits, brings your towels, and experience the jetting that made Jacuzzi Brand Hot Tubs famous!
EXPERIENCE ULTIMATE HYDROTHERAPY…
Choosing the right company to buy your hot tub or spa from is as important as choosing the right brand. That's why Aqua Paradise should be your first source for hot tub and spa information and needs.  Just see what people think about us on Yelp!
At Aqua Paradise, our experts will help you find the perfect model to fit your backyard, patio, and budget! Aqua Paradise carries world's leader in hydrotherapy: Jacuzzi Hot Tubs.  Aqua Paradise features the most innovative and best-in-market Jacuzzi Products at both our convenient San Diego and Carlsbad  locations. At each of these two locations, you will find three different models filled full of clean, hot water ready for you and your family to experience what makes a hot tub a genuine Jacuzzi Brand Hot Tub.  In addition to our running display models, we also have several of Jacuzzi's best selling models empty for those of you who want to get a feel for your new Jacuzzi without the bathing suit experience.  
Finding the perfect hot tub is only half of finding the perfect dealership.  On top of our full inventory of Jacuzzi's, we are also a full service repair center.  This is perhaps every bit as important because you want to make sure you are dealing with someone prepared for the unexpected.  We keep a full inventory of filters, pumps, heaters, circuit boards, sensors, jets, headrests, lights, and even chemicals to make sure that no matter the task at hand, we can handle it.  
Either way, bring your smiles to Aqua Paradise and see what our award winning shopping experience is all about.
The hot tub lineup provided by Jacuzzi is one of the best the industry offers.  Looking for a hot tub on a tight budget?  We have that.  Looking for a hot tub specifically for hydrotherapy?  We have that too.  How about hot tub that pushes the the common boundaries of style while being the most energy efficiency in its class?  We have that too.  It doesnt matter if you are just looking for a hot tub for 2 adults or a hot tub large enough for the whole family (and then some!) we have a hot tub to fit any size requirement, budget, and therapeutic need.  With well over 50 years of experience, Jacuzzi has created something for almost anybody.
Need help deciding what hot tub will work best for you?  Ask yourself these simple questions:
Whats my budget for a hot tub?
How much space do I have for a hot tub?
How many people do I want to seat in my hot tub?
Do I want hot tub with or without a lounge seat?
Once you know the answer to those questions, give us a call and we will help you determine exactly which Jacuzzi Model will be best for you: (858) 675-7727 or (760) 431-7727

Hydrotherapy on a budget!
If family fun and a nice soak is all you want from your hot tub then these are the perfect spas for you.  Packed with the features you need for a positive experience plus just as durable as any Jacuzzi Hot Tub, these spas will work for any family.

Our Most Popular Product Line!
Big jetting, lighting, and warranty upgrades are just some of the reasons the J-300 Collection are Jacuzzi's best selling line of products.  Come wet test one of these today!

Contemporary Style meet efficiency!
The most energy efficient products in their class, the striking stainless accents and incredible PowerPro Jets set the LX models apart from the crowd.  Check out the these backyard masterpieces today!

Serene Tranquility and Premium Hydrotherapy
Technology, style, and superior comfort lead the J-400 models.  Patented RX Jets combined with beautiful waterfalls and breathe taking LED lighting are sure to put a smile on your face.  Come see the J-400 Collection today